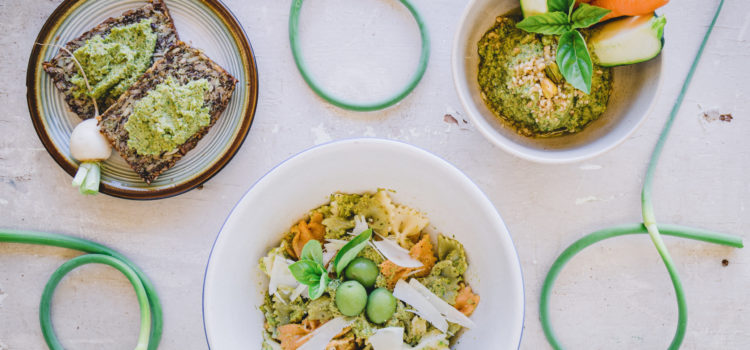 We are growing a lot of hardneck garlic and so at this time of year we try to convince as many people as we can to include garlic scapes in their cooking or pickling schedule! The season is short so it makes sense to get your first hit of garlic for the year (if you missed green garlic) and prepare it for the winter when you need some extra heat to keep your belly warm.  Inevitably we don't convince as many people as we have scapes, so we end up making this garlic scape pesto.
You can play around with this version. I have included raw spinach here because we had some kicking around and it also adds a nice consistency and mellows out the pungent Turban scapes I used. Leaving your pesto in the fridge for a day will also help it mellow out. If you are looking for the garlic kick serve right away.
Also, pesto freezes really well, which is nice for evenings when you don't have time to cook.  It makes a fantastic dip, spread it on your favourite sourdough bread (thank you Ritchies Bakery for the seed bread- it was perfect with this pesto), on pizza crust, in salad dressings, sandwiches, crepes, with poached eggs on toast and of course on your favourite pasta. Add a little extra grated Grana Padano cheese and chopped pistachios, lemon balm and basil for garnish.
This particular recipe makes a lot of pesto, so if you only want a little you can half all the proportions. Bon Appetit!
Ingredients
Garlic:
4 cups roughly chopped garlic scapes
Main Ingredients:
1 1/4 cup Pistachios (you can use almost any nut here or pine nuts of course)
1 cup grated Grana Padano or Parmigiano-Reggiano
2 cups chopped up Italian or Lettuce-Leaf basil
1 jam packed cup roughly chopped raw spinach (optional)
1- 1 1/2 cup olive oil
1 lemon with juice squeezed out
3-4 sprigs lemon balm
salt and pepper to taste
1/4- 1/2 cup water to add for getting right consistency
Preparation
In a food processor, add your pistachios, spinach, basil, lemon balm and garlic scapes and pulse until all chopped.  Add the grated cheese and pulse a few more times to combine.
With the processor running on low, slowly add the oil and lemon juice until the mixture becomes a smooth paste.  If it seems too thick you can keep the processor running on low and add more water until you get the consistency you desire, which may defer depending on how you are using your pesto.
Serve immediately or keep in fridge until the garlicky goodness mellows out a little. This batch makes a large amount so you can also freeze it for easy meals later!
Garlic Scape Pesto with Spinach and Pistachios