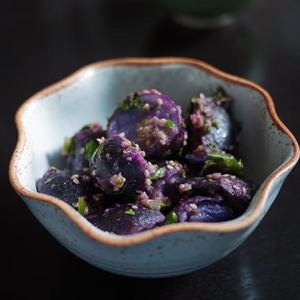 4 medium-sized potatoes (or equivalent of smaller-sized), cut into small piece
4 tbsp sesame seeds 1 tsp sea salt
1 tsp sichuan pepper
2 jalapeños, seeded and minced
juice of 2 lemons
4 tbsp sesame oil
3 tbsp cilantro, chopped
Boil the potatoes until just tender. Be careful not to overcook or you'll end up with potato mush when combining the ingredients.  Drain the potatoes and place in a large bowl.  Add sesame seeds, salt, pepper and jalapeños. Mix.  Add lemon juice and sesame oil. Mix.  Add cilantro. Mix one final time.
You can either eat immediately or save for later. In fact it just gets better over the first day.
Vegan Potato Salad with Sesame and Chilies