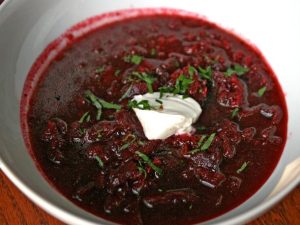 2 pound red beets (about 5 medium), scrubbed, peeled, and cut into medium dice
1 pound russet potatoes (about 2 medium), peeled and cut into medium dice
2 shallots, coarsely chopped
3 to 5 sprigs fresh thyme
2 tablespoons olive oil
Kosher salt and freshly ground black pepper
5 cups homemade chicken broth or low-sodium canned broth/veggie
1 tablespoon red wine vinegar
Sour cream
4 tablespoon chopped fresh parsley
1. Adjust oven rack to middle position and preheat the oven to 400°F. Meanwhile, toss vegetables with olive oil, salt, and pepper. Spread out in a single layer on rimmed baking sheet and tuck the sprigs of thyme in amongst the vegetables. Roast until tender, about 45 minutes, discarding the thyme once they are finished cooking.
2. Bring the broth to a simmer in a large saucepot and add the cooked vegetables. Mash roughly with a potato masher or wooden spoon, add the vinegar, and season to taste with salt and pepper and more vinegar if needed. Serve in bowls topped with a dollop of sour cream and a sprinkle of parsley.
Roasted Beet and Potato Borscht