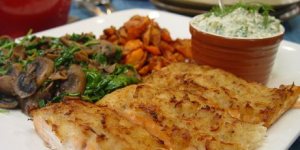 INGREDIENTS
The Salmon
2 russet (or Russian Blue or Yukon Gold) potatoes, baked and chilled
2 tablespoons horseradish
2 tablespoons oil
Salt and pepper
4 salmon filets, 6 ounces each
The Pickle Sauce
2 dill pickles, chopped
1 small bunch dill, chopped
1 green onion, chopped
1 tablespoon mustard
1/2 cup mayonnaise
The juice from half a lemon
Salt and pepper
DIRECTIONS
The Salmon
Preheat oven to 375°F.
Grate potatoes through the large holes of a box grater into a medium sized bowl.
Stir in horseradish, oil and salt and pepper mixing well.
Pat crust onto top surface of filets and place in a baking pan or on a baking sheet.
Bake until salmon is cooked through and the crust is golden and crispy, about 15 minutes.
The Pickle Sauce
Place all ingredients into a bowl and mix well.
Serve with salmon.
Horseradish Potato Crusted Salmon with Pickle Sauce