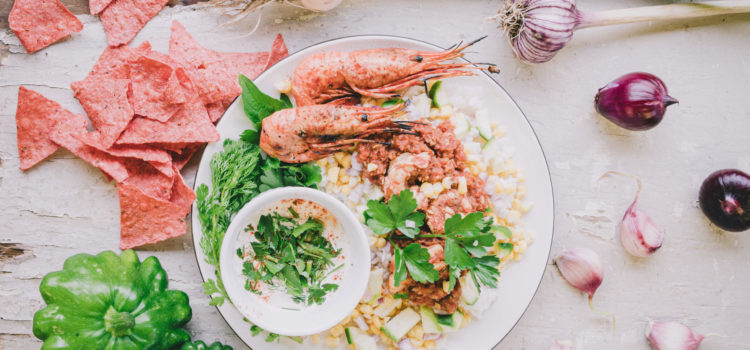 It is spot prawn season! It is a fleeting seasonal treat that I will go out of my way to enjoy each year.  They are a delicacy from our little region of the world that we once used to export entirely! We now get to enjoy this delectable crustacean at home thanks to the BC Spot Prawn Festival. There are a number of small local fisheries that offer spot prawns, but do keep your eyes and ears open for them as they start in May and generally only last for 6-8 weeks thereafter.
You can make an easy meal of just grilled prawns with garlic butter, but we happened to have some vegetables that I had preserved from the previous season that we had to eat up because this year's harvest would soon be ready and we try very hard to never waste food.  So I had to come up with a way to use some frozen corn that we grew, shucked and froze the previous season, stewed tomatoes in a jar and we also had some zucchini and patty pans kicking around (we pretty much always do when they start producing).
It was also rainy and cool the day I prepared this meal so I felt like something with a little more sustenance. This dish was influenced by an additional craving for Mexican flavours and this is what I came up with-
Ingredients
Garlic:
1 head of Garlic (Purple Glazer is what I used) chopped
Main Ingredients:
1 tbsp vegetable oil
1 lb Spot Prawns
1 litre jar stewed tomatoes
1/2 cup chicken broth
1 red onion sliced or diced
1 1/2 cups sweet corn
1 medium zucchini sliced or chopped
1 1/2 cups rice
Parsley and cilantro for garnish
Corn tortilla chips
Sauce:
1/2 cup mayonnaise
1/2 cur high fat plain greek yogurt or sour cream
3/4 tsp cumin
1 tbsp lime juice
1 clove garlic minced
1 small squirt hot sauce (we used Roaster's Chipotle)
Cilantro chopped
Preparation
If your Spot Prawns were purchased fresh off the docks then you need to act fast and basically cook them straight away. If you purchased them frozen then do not thaw until you are ready to cook. They thaw very quick and so all you need to do is run them under cool water for a few minutes.  I used a combination of shelled prawns that I cooked into the tomatoes and also grilled some whole on the BBQ for fun.
Prepare sauce by adding all ingredients into a food processor and blend until smooth and creamy.
Cook rice in a rice cooker or pot and set aside somewhere to keep warm.
Shell all but 4 of the prawns and set aside. In a cast iron pan, with a little bit of vegetable oil, sauté about half of the onion, half of the garlic and add the tomatoes and broth.  Simmer for about 5 minutes and then add shelled prawns.  The prawns don't take very much time to cook. Simmer the prawns in the tomato medley for about 3-4 minutes. Set aside with cover to keep warm.
In a cast iron pan, lightly sauté the other half of the garlic, red onion, all the zucchini and sweet corn for about 4 minutes.  Do not over cook as it all can turn to mush very quickly and you want to maintain some of the crispness and sweetness of the zucchini and the corn.
Meanwhile, on the BBQ at 400°F place the unshelled prawns on the grill for 1-2 minutes on each side and remove from grill.
To serve, scoop some rice on the plate, then add a ladle of the zucchini and corn medley, then the tomatoes with prawns and garnish with chopped parsley and/or cilantro.
Serve the grilled prawns on the side and serve with corn tortillas and the sauce.
Another alternative to chips would be to serve all of this in a tortilla wrap and/or prawn tacos!
Photo by JS Gordon-Moran, www.ayearofoctobers.com
Garlic Spot Prawns with Stewed Tomatoes and Veg