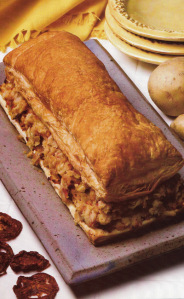 From the Potato Harvest Cookbook by Ashley Miller (A book filled with FANTASTIC recipes- a worthwhile purchase!)

Ingredients:
2 medium Russet potatoes (or Yukon Gold)
½ cup sun-dried tomatoes
1 cup boiling water
2 tablespoons olive oil
1 medium leek, well rinsed and chopped (1 cup)
1 ¼ teaspoons ground cumin
9 ½-inch by 10-inch sheet of frozen puff pastry
salt and freshly ground black pepper to taste
In a medium pot, cover the potatoes with water and bring to a boil over high heat.  Lower the heat and simmer, covered, 35-40 minutes, or until tender.  Remove the potatoes from the heat, then drain, peel, and cut them into chunks.
While the potatoes are cooking, place the tomatoes in a small bowl and pour the water over them.  Let stand 30 minutes, then remove any tough stem scars from the tomatoes with scissors, if necessary.  Chop the tomatoes into small pieces and reserve the soaking liquid.
In a medium frying pan, heat the oil over low heat.  When hot, add the leeks and cumin and cook slowly 10 minutes.
Preheat the oven to 400˚F or the temperature indicated on the puff pastry package.  Remove one sheet of the puff pastry from the freezer and thaw at room temperature 30 minutes.
Rice the potatoes into a medium bowl.  Add the tomatoes, leeks, and any oil left in the pan.  Season with salt and pepper.  Mix well with a potato masher or wooden spoon, and add ¼- ½ cup of the soaking liquid for a firm but creamy texture.
Gently unroll the pastry so that it lies flat.  If the pastry cracks, repair it by brushing it with water and smoothing I over.  With a sharp knife, cut the pastry in half.
With a large spoon, place the potato mixture on one of the pastry halves, spreading it evenly.  Turn the other pastry half to the side that doesn't show the fold marks and prick it with a fork three or four times, then place it on top of the potato filling.
Transfer the gateau to a baking sheet and bake 30 minutes, or until golden brown.  Serve warm.
Serves 4
Gateau Des Pommes De Terre