Happy Spring! I hope all of you are well and soaking up this extra bit of sunshine that we're seeing more and more of every day.  The signals of spring– purple and yellow crocuses, emerging cherry blossoms and singing birds, are most definitely heightening my mood and I hope yours too!
So friends, I am writing this post to tell you about a big change to Earth Apple Farm…
As of one week ago, I decided to move my field from Abbotsford to South Burnaby.  It was both an easy and difficult decision to make, with a bitter-sweet outcome really.  Bitter, because I truly love the Fraser Valley and I was most fortunate to grow my farming practice under the supportive wings of FarmStart BC.  I will miss the farm folk of Abbotsford and working side by side with them.
The thing is after weighing out both the bitter and the sweet, I found myself persuaded by a much more heavy and fragrant sweetness-I  just had to follow my nose.  For starters, the Burnaby field I am moving to is a bike ride away from my house.  The carbon footprint alone should have been enough to make the decision…
But if you'd like to know more:
The soil is like black gold. I have never seen anything quite like it.  Have any of you ever purchased some of that Sea Soil from a garden store?…this is what my new soil looks like.  After a soil test and UBC's Dr. Art Bomke having a look at it, it was determined that I was on good ground.
The field is part of the Agricultural Land Reserve and was farmed organically only a few years ago.  Since then it has been left fallow.
I will be neighbours with Urban Digs Farm and Yummy Yards Farm. I've been getting to know them over the past month and I feel so privileged to work alongside them.  They are quite obviously dedicated, skilled, smart, hard-working and inspiring!
The farm will also be much more accessible to Vancouver visitors and volunteers .  The first big volunteer day will be April 1st.  Although, we seem to have found ourselves a sweet deal, the field is going to need some TLC before we can start growing on it!  So April 1st, Earth Apple Farm will be partnering up with Urban Digs Farm and Yummy Yards to do a little spring cleaning 🙂  If you'd like to participate, please send me an email and I will add you to the volunteer email list and send you more information about Spring Cleaning Day.
earthapplefarm(at)gmail.com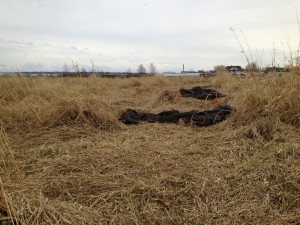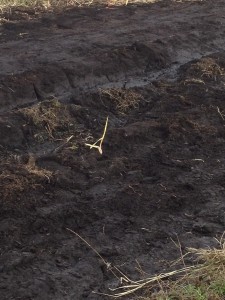 There are still a few spots left for people interested in a Potato CSA.  If you're interested, check out the Potato CSA page for more information and spread the word!  We're on Facebook.
To celebrate this move, I share a short animation with you that Jody Kramer produced for the 100-Mile Diet Society (my previous work and passion). Home Is Where the Food Is
I sign off with a quote by a new found favorite author, introduced to me by a member of Earth Apple Farm- Thanks Andrew!
"Our job is to record, each in his own way, this world of light and shadow and time that will never come again exactly as it is today."  Edward Abbey
Home is Where the Heart Is