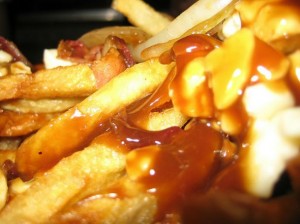 Ingredients:
300ml good quality beef stock
200ml good quality chicken stock
2 tsp balsamic vinegar
2 tsp truffle oil
1kg French fries (I like to use Yukon Golds, Russets or Red Chieftains)
200g cheese curds (Little Qualicum Cheese makes great curds!)
2 tbsp cornflour (aka cornstarch) mixed in a little cold water
Cook your fries, and meanwhile make the gravy by grating about 1/3rd of the truffle into the stock, adding the balsamic and the truffle oil, then bringing it to the boil. Add the cornflour in water to the stock and stir well to prevent lumps, until it's smooth, thick and lustrous.
Plate up the fries and scatter pieces of the cheese curd on top.  Pour over the gravy, then shave the remaining truffle on top. The hot gravy should melt the curd, but if you want to help it along then 30 seconds in the microwave doesn't hurt.
Inspired by Mouthwatering Recipes.com