Community Shared Agriculture 
SIGN UP TODAY FOR A SEASON OF FRESH ORGANIC VEGETABLES, FRUIT and EGGS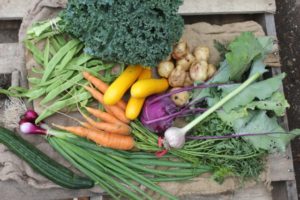 Community Shared Agriculture (CSA) is a type of farm program that recognizes the importance of the relationship between producer and consumer and is based on the understanding that operating a small-scale sustainable farm is a community-oriented endeavour.  Both farmer and consumer share responsibility in both the benefits (fresh, local, healthy and ethically grown produce) and risks (bad weather, illness, pests) that are inherently involved in the practice of organic farming.  The consumer gives the farmer one easy payment in the spring when the biggest expenses (leases, seed, fertilizer, equipment maintenance/repair, rentals, tilling, etc) are incurred by the farmer and the CSA member benefits from a weekly supply of the freshest and tastiest produce throughout the growing season.
We've heard over and over again from CSA members that they love this program, because it encourages a well-rounded diet full of vegetables, encourages them to be creative and often leads to more socializing with friends so they can share the bounty and show off their new culinary skills!  Please note that the CSA is not a bulk buyers club, however get on our list to hear updates about bulk buying opportunities (tomatoes, blueberries, pickling cucumbers, potatoes).
2018 CSA Harvest Box
As of 2018, we are partnering with Close to Home Organics here at Glen Valley Organic Farm for our CSA program offerings!  …and we are now accepting new members!
A short, medium or long season (your choice) of fresh, crunchy, juicy, seasonal fruits, vegetables and eggs! Choose your pick-up location. Click on the links for more below.
ABOUT the program: https://www.glenvalleycsa.com/
FAQ page for dates, pricing and other info: https://www.glenvalleycsa.com/faqs
SIGN-UP HERE: https://csa.farmigo.com/join/glenvalleyorganicfarm/2018season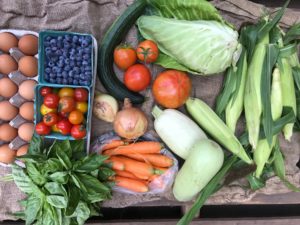 Earth Apple CSA MARKET SHARE
You'd like to be a CSA member, but prefer to  choose your own produce/ schedule too hectic to commit every week/ have special dietary needs/ you're away for many of the weeks of the season?!…  Or perhaps you want to do a Glen Valley box and have the option of adding to it with what we offer at the farmers market… this is the CSA membership for you!
Choose from a $250- $550 membership with the option to add more as the season progresses.
Sign-up before March 1st and pay before April 1st and you're entitled to a 5% discount!
Pick-up your share anytime between May and December at the summer market at Trout Lake or the Winter Market at Nat Bailey Stadium.
Didn't use up your credit by the end of 2018? It will roll over to the above-mentioned markets in 2019
More credit can be added to your card at any time.
We can keep your card safe in our cash box= no risk of lost or stolen cards and you will never need to worry about forgetting your card or not having cash on hand!
Earth Apple Market Share SIGN-UP BY CLICKING HERE

SEASONAL AVAILABILITY
June:  Peas/ Spinach/ Salad Greens/ Arugula/ Green Onions/  Kale/ Radish/ Salad Turnips/ Choi/ Fennel Bulb/ Rhubarb/ Kohlrabi
July to August: New Potatoes/ Blueberries/ String Beans/ Spinach/ Salad Greens/ Beets/ Carrots/ Garlic Scapes/ Green Onions/ Kale/ Radish/ Swiss Chard/ Tomato/ Cucumber/ Sweet Peppers/ Eggplant/ Summer Squash/ Broccoli/ Cabbage/ Basil/ Cilantro/ Parsley/ Sweet Corn/ Fennel Bulb
September to October: Potatoes/ Garlic/ Carrots/ Cabbage/ Romano Beans/  Spinach/ Lettuce/ Beets/ Carrots/ Leeks/ Onions/ Kale/ Radish/ Swiss Chard/ Tomato/ Cucumber/ Sweet Peppers/ Broccoli/ Cauliflower/Rutabaga/ Summer Squash/ Winter Squash/ Cabbage/ Fennel Bulb/ Cilantro/ Parsley
October to November: Potatoes/ Garlic/ Onions/ Carrots/ Beets/ Cabbage/ Baby greens/ Kale/ Radish/ Turnip/ Rutabaga/ Broccoli/ Winter Squash/ Brussel Sprouts/ Cilantro/
*Please note that some vegetables are in season for a long periods of time, such as summer squash, kale & beans. Thus you will see them in you box multiple times (or throughout the season as is the case with kale). Be ready to find creative and delicious ways to keep your recipes and meal ideas fresh and fun!
_______________________________________________________________________