To receive an email notice about when our garlic is ready to order- get in touch!
We will be selling our New Mountain Seed Garlic online beginning mid-July (shipping Fall 2020).  Check back then for link to purchase.
New Mountain Garlic, 
Certified Organic since 2011
Farmer Mike, formerly of New Mountain Farm, has been saving seed and doting over his garlic for over a decade with varietals that have been in the making from different regions of Asia and then Europe for thousands of years.  
We currently have selected seven groups of garlic comprising 18 different varieties in our tender loving soil.
Learn more about the garlic we grow and begin your garlic legacy here (online store coming soon):
Garlic Types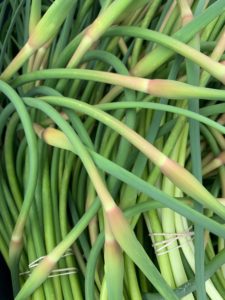 Hardneck Allium Sativum Ophioscorodon
There are many varieties of hardneck garlic. This group of garlic has a woody stem and the plant sends out a scape, which is the flower of the plant.  If you leave the scape to flower it will form bulbils.  If you cut off the scape (which is a delectable addition to many cuisines) the plant will send its energy back down to form a larger bulb.  If you want to increase your garlic collection and are ready to put in the years, you can let the plant produce a scape and collect the bulbils to grow out for additional seed.
Softneck Allium Sativum Sativum
There are fewer families of this type of garlic. However it is the most commonly found garlic in grocery stores due to its capacity to grow large and its tendency to store well when cured properly.  This type of garlic is much easier to make into decorative braids and mostly does not form a scape.
See which specific varieties we grow here or in our online shop (coming soon).
We are certified organic by the BC Association of Regenerative Agriculture (BCARA) Certification Number: 03-92-038